Before I get started: sorry that this blog is coming about a week late; I've been very busy since I got back, and haven't had time to work on it until today.
Saturday morning, we awoke around 7:00 and enjoyed the remainder of our donuts from Krumpee's (2 Bavarian cream, a coconut, and a glazed chocolate cake) for breakfast. We stopped at a gas station close to our hotel for fuel, and then started making our way up to State College, Pennsylvania.
There is no good way to get to State College. We were feeling adventurous, so we opted to take the most direct route, which was certainly not the easiest. We were mainly on US-522, US-22, and PA-26, but our path wound its way through the Pennsylvania mountains with numerous turns and side roads. To our great annoyance, we got caught behind an enormous tractor for almost 30 minutes, and finally ended our suffering when the driver decided to turn off into one of the thousands of corn fields we'd been driving through. It was a very scenic drive, but we thought it was never going to end!
The Pennsylvania State University
It seemed as if State College just materialized out of nowhere. It is very isolated, but the campus itself is quite expansive. After getting stuck on some side roads, we finally made it to the yellow lot (which was just one of the intramural fields), and parked. Those people know how to tailgate! I've never seen so many people crammed into one space. Everyone was very friendly, and it was definitely the most welcoming crowd of all the Power 5 schools we've faced.
After we parked, we walked around campus for well over an hour, seeing the soccer fields, swimming complex, tennis courts, intramural facilities, practice facilities, dorms, and several academic buildings. The most interesting structure we saw was the Millenium Campus building, which housed life sciences, design, and several other programs. It is a very bizarre shape, and had an open space with a garden in the center of it.
Finally, we met up with Cody and Morgan McKinney (my former roommate/fellow accounting graduate and his wife), and Kenneth Davis and his friend Blake, who we know from other Appalachian sporting events. We'd planned to tailgate with some friends of Kenneth, so we waited around until we finally found where they were parking. Somehow, they'd managed to secure a spot in the green lot right next to the visitor's gate. We enjoyed a wonderful tailgate, and Cody, Morgan, and I walked around the stadium some more.
About an hour and a half before kickoff, we entered Beaver stadium, and climbed up to our seats. It was a fantastic game! I'm sure you've seen multiple highlights from it by now. It was wonderful to hear the fans silenced as we far surpassed all reasonable expectations for a small Group of Five school.
I'm still disappointed that we lost in overtime, but it was one of the best football games I've ever seen, and I have great confidence that we are well-situated for the current and the next several years. All I really care about is that we destroy UNC-Charlotte next weekend in Charlotte at Jerry Richardson Stadium.
After the game, we finally found the truck (there were so many people and cars we weren't sure we would), and headed out of town to I-99. Along the way, we dropped off Kenneth and Blake at their hotel. We decided to take the Interstate back, rather than attempting to navigate the Pennsylvania backwoods in the dark. A few exits down, we stopped at an Outback to take care of our hunger and exhaustion (we felt like we'd been down on the field playing alongside the team).
We took I-99 > I-70 > I-81 back to our hotel, about a 2h 40m drive. Finally we arrived back at the hotel, and immediately showered and fell asleep, only pausing to watch our highlights on SportsCenter before we headed to bed.
The next morning, we woke up around 7:30, and left our hotel by 8:00 for our journey home. We made it through most of the Shenandoah Valley in good time, only stopping once at a rest area. Around 11:30, we stopped at a barbecue restaurant in Christiansburg, VA (halfway between Roanoke and Blacksburg) called Due South BBQ. Dad got a brisket sandwich, mac & cheese, baked beans, and banana pudding; I got a pulled pork sandwich, mac & cheese, and fried okra. The sandwiches were excellent, and we enjoyed some live music from a local while we ate.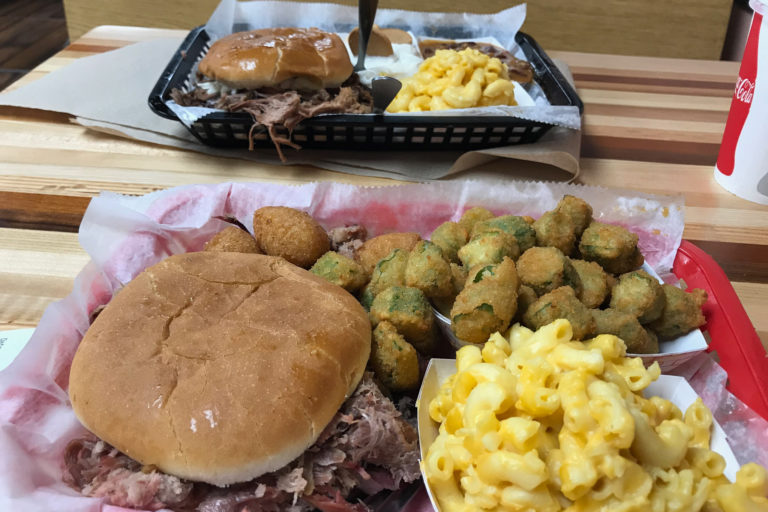 Around 13:45, we arrived back where I had dropped my car in Wilkesboro. I journeyed back up the mountain for my weekly Sunday afternoon soccer match at the Valle Crucis Community Park, and Dad headed back to Granite Falls.
Overall, it was a great trip, even though we lost, and we are looking forward to many other Power 5 road trips in the future. We are also traveling to Charlotte for our game next weekend, but I likely won't break out the blog for that, since it's just a day trip.
Thanks for reading! I hope to have my email links fixed soon.